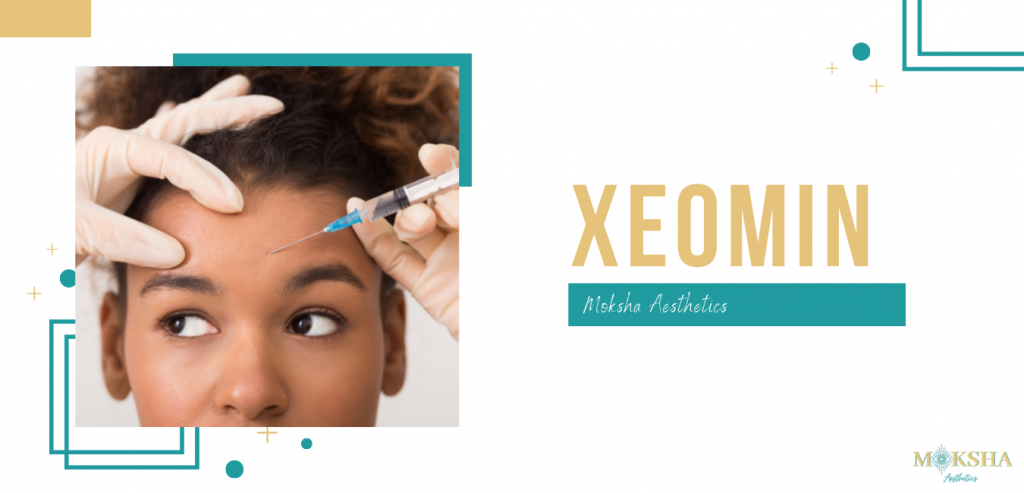 XEOMIN® is a neurotoxin designed to reduce facial lines and wrinkles by blocking the muscle contractions that cause them. It is one of several neurotoxin brands we use at Moksha Aesthetics.
According to the manufacturer, XEOMIN is produced with a unique process that isolates the therapeutic component of the molecule, removing unrelated proteins. This may provide the patient with a more precise application of the treatment to the desired treatment area.
XEOMIN is a popular choice because many people have reported that it helps them achieve a fresher, younger appearance without looking "overdone."
Who Should Consider XEOMIN?
XEOMIN can be an effective treatment option for those wanting to reduce lines and wrinkles due to aging and other factors. XEOMIN is for patients ranging in age from late 20s through their 60s. You must be in good health.
Our staff of injection specialists will work with you to explain, in detail, how neurotoxins like XEOMIN work. We'll evaluate your skin and work with you to develop a custom treatment plan to help you look younger and feel more confident.
What To Expect During Treatment
Treatments usually take about 10 to 20 minutes. Our injection specialists will cover your treatment plan before we begin, then make very targeted injections. Discomfort is usually minimal, but if you are extra sensitive, we can provide topical cream to address this. After treatment, you'll wait a few minutes in our office to make sure there are no allergic reactions (a very rare occurrence), and then you can go about your day.
What Are The Results Of Treatment?
Results vary by patient, but typically people start seeing improvements in line or wrinkles in two or three days. Improvement will continue for a couple of weeks. Generally, the results will last a few months by which time you will be scheduled to come back in for a touch up. Those who maintain their followup visits should enjoy consistent results throughout the year and lesser amount of toxin used at each visit.
How To Learn More
Schedule an appointment with the injectors at Moksha Aesthetics, and we'll work with you to create a plan using neurotoxins to help you reach your appearance goals.
*For information on pricing, please call (240) 907-5009 or email info@mokshaaesthetics.com.