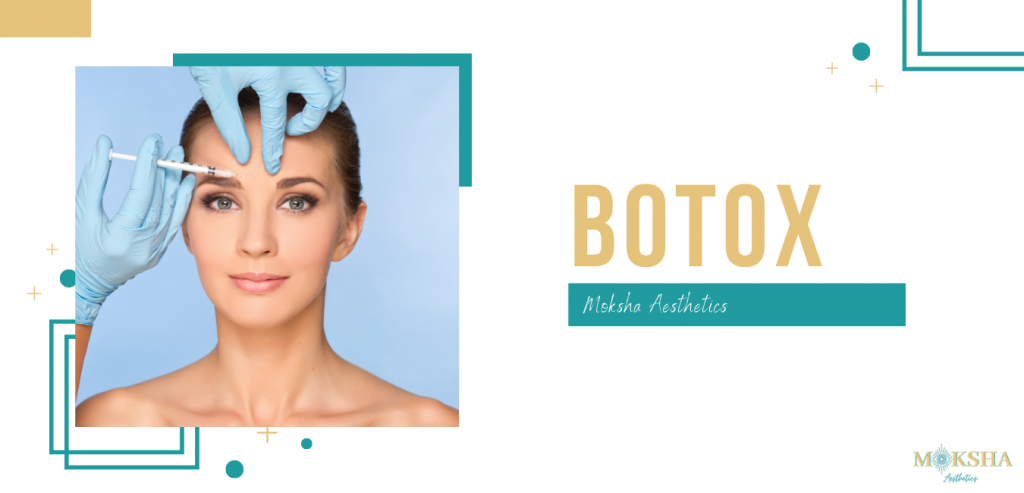 Neurotoxins are injectable compounds that relax muscles, smoothing out lines and wrinkles. There are several brands of neurotoxins, and one of the most well known is  BOTOX® Cosmetic.
BOTOX Cosmetic targets specific areas of the face and neck to relax muscle tension and smooth lines and wrinkles. At Moksha Aesthetics, we use it for a variety of treatments. It is one of several neurotoxin compounds, along with Xeomin® and Dysport® that are commonly used here at Moksha. Cosmetic treatments using neurotoxins typically last up to four months.
Who Should Consider BOTOX Cosmetic?
BOTOX Cosmetic is for patients in good health aged 20 to 70, who are interested in reducing facial and neck lines. Our highly experienced staff will work with you to evaluate which specific treatments are right for you. We'll provide you with detailed information on all your options so you can make an informed decsion about what is best for you.
What To Expect During Treatment
First, we create a treatment plan that's customized for you. Since neurotoxins provide temporary results, your plan will likely include 3-4 visits per year to achieve optimal results while maintaining a consistent look. 
BOTOX Cosmetic is administered in a series of targeted injections that normally take about 15 minutes once started. Afterward, there's a brief waiting period to make sure you haven't had an adverse reaction (a rare occurrence). Then, you may return to your daily routine. You may notice some minor swelling or redness, but each normally dissipate quickly. 
What Are The Results Of The Botox Cosmetic Treatments?
After treatment, many people begin noticing that lines start smoothing in 24 to 48 hours. Improvement continues for several days afterward to produce optimal results. Treatments last for three to four months before they need to be repeated. The long-term treatment plan you create with our staff will determine when to schedule your next treatment. 
How Do I Get Started To Get Botox Cosmetic?
Schedule an appointment with the injectors at Moksha Aesthetics, and we'll work with you to create a plan using neurotoxins to help you reach your appearance goals.
*For information on pricing, please call (240) 907-5009 or email info@mokshaaesthetics.com.