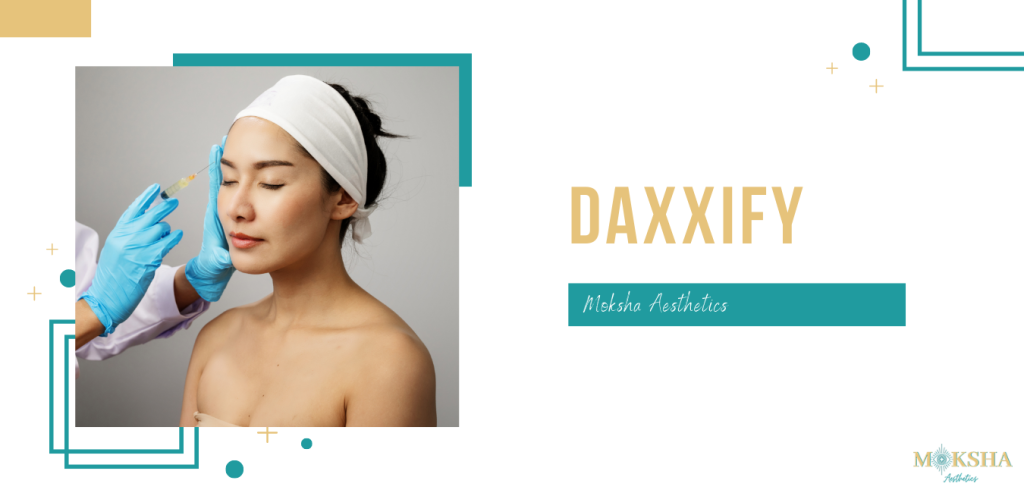 Moksha is one of the first and only Medical Spa's to offer the new high-powered, FDA-approved frown line treatment designed to minimize the appearance of facial wrinkles, fine lines and folds.
The New Botox is call Daxxify, a more enhanced product on the market that has long been dominated by tradional Botox.
The median duration of 6 months and up to 9 months for some patients treated with Daxxify.
What Is Daxxify?
Daxxify was developed by the manufacturer Revance Therapeutics. Many extensive studies have shown the drug can temporarily improve "moderate to severe frown lines" in adults for a median duration of six to nine months, which is up to two to four months longer than the period generally provided by Botox.
How Does It Work?
Like Botox, Daxxify is an acetylcholine release inhibitor and neuromuscular blocking agent. This means blocking certain neurological chemical signals from nerves, mostly signals that cause muscles to contract or create lines at rest, and temporarily relaxing the facial muscles that cause wrinkles.
Like Botox is can trastically reduce frown lines across forehead, crows feet, and other areas of the face or body.
The injection can also used to treat conditions such as neck spasms, excessive sweating, an overactive bladder, and lazy eye.
Daxxify was found to be "generally safe and well tolerated" with no serious treatment-related adverse events reported in during the clinical trials and approved by the FDA as safe.
WARNING: DISTANT SPREAD OF TOXIN EFFECT
The effects of DAXXIFY™ and all botulinum toxin products may spread from the area of injection to produce symptoms consistent with botulinum toxin effects. These symptoms have been reported hours to weeks after injection.
Swallowing and breathing difficulties can be life threatening and there have been reports of death. DAXXIFY™ is not approved for the treatment of spasticity or any conditions other than glabellar lines.
Indication
DAXXIFY™ (daxibotulinumtoxinA-lanm) injection is an acetylcholine release inhibitor and neuromuscular blocking agent indicated for the temporary improvement in the appearance of moderate to severe glabellar lines associated with corrugator and/or procerus muscle activity in adult patients.