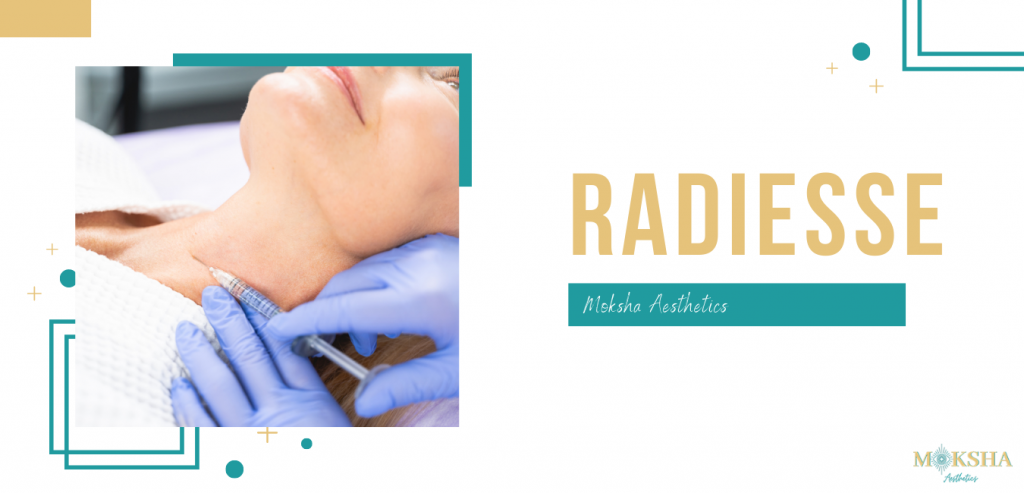 Signs of skin aging have met their match! Radiesse®, the first dermal filler approved by the FDA for the face and hands, treats wrinkles and folds in the skin by filling lost volume as well as boosting the skin's natural collagen production.
Hyperdilute Radiesse is simply Radiesse that's been thinned out with a mixture of saline and lidocaine to boost collagen stimulation in additional areas of the body.
How Does Radiesse And Hyperdilute Radiesse Treat Signs Of Aging?
Radiesse is made from calcium hydroxyapatite particles that are suspended in a water gel. Though there is an instant plumping effect attributed to the gel substance, it doesn't necessarily "fill" the area of lost volume like typical hyaluronic acid fillers do. Instead, the calcium hydroxyapatite molecules stimulate your body to produce new collagen, which results in a firmer, more youthful appearance for a longer period of time as compared to other fillers.
Since hyperdilute Radiesse is a more thinned out version of Radiesse, it can be administered to a variety of other areas in addition to the face and hands.
Where Can Hyperdilute Radiesse Be Used?
The following areas have shown success from treatment with hyperdilute Radiesse:
Face
Neck
Buttocks
Hands
Upper arms
Décolletage
Abdomen
Knees
Who Should Consider Treatment With Radiesse Or Hyperdilute Radiesse?
Radiesse and hyperdilute Radiesse are for people 20 years of age and older who are in good health and are concerned with loss of volume and wrinkles. The majority of patients who elect these treatments are between the ages of 35 and 60. During your consultation, we will explain both treatments in detail and answer any questions you may have.
What Should I Expect During And After My Treatment With Radiesse And Hyperdilute Radiesse?
Radiesse and hyperdilute Radiesse are administered through a series of injections, depending on the size of the area you want treated. We'll determine the right dosage during your consultation. After properly sterilizing and numbing the area with local anesthesia for your comfort, we will strategically inject the filler to restore lost volume in the affected area. Each treatment takes only a few minutes. There is generally no downtime after injections, but we recommend no strenuous activity for a couple of days. You may experience some swelling, but this usually dissipates in about 24-36 hours.
Are There Other Side Effects With Radiesse And Hyperdilute Radiesse Injections?
In addition to mild swelling, the most common side effects seen in clinical trials have included the following:
Redness
Tenderness
Pain at injection site
Bruising
Itching
Nodules or bumps/lumps
If any of these effects occur, they are usually mild and temporary. We'll be sure to discuss all potential side effects and more at your consultation.
What Results Can I Expect From My Treatment With Radiesse And Hyperdilute Radiesse?
There is an immediate plumping effect from Radiesse injections, with full benefits showing up in about two weeks. With hyperdilute Radiesse, you'll start to notice those lines and wrinkles improve in about four weeks with full results achieved in about four months. Results from both treatments generally last one to two years.
How Do I Get Treatment With Radiesse Or Hyperdilute Radiesse? Our highly trained injectors are standing by in the DMV area to help you learn all the great benefits of these popular anti-aging treatments. All you need to do is give us a call at (240) 907-5009. We'll set up a consultation to discuss your specific skin concerns and determine if Radiesse or hyperdilute Radiesse are right for you