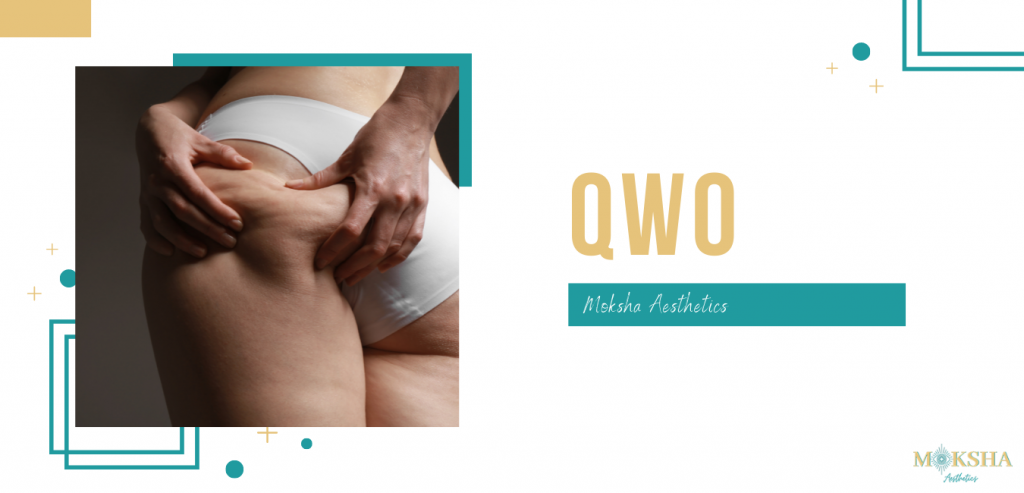 QWO is an injectable treatment for cellulite, and it's available at Moksha Aesthetics!
If you have cellulite, you're undoubtedly familiar with the struggle of feeling self-conscious about those unsightly dimples in your thigh and buttocks region, especially during shorts and bathing suit weather. But you're certainly not alone – it's estimated that roughly 85% of all women over the age of 25 have some degree of cellulite. Only about 10% of men are affected. The good news is there are options in combatting the unwanted bumpy appearance that often comes with the cellulite territory.
At Moksha Aesthetics, we offer one of the latest innovations in treating cellulite for our DMV area patients. We carry the first and only FDA-approved injectable for moderate to severe cellulite. It's called QWO® (collagenase clostridium histolyticum-aaes) and it's making waves in the medical aesthetics community for its amazing skin-smoothing benefits.
How does QWO treat cellulite?
First of all, cellulite isn't your fault. It's not fat; it's not caused by what or how much you eat; and it's not because you aren't getting enough exercise. The formation of cellulite is simply a part of a woman's biology.
Special enzymes in QWO (called collagenases) target specific structural causes under the skin, though it's not fully understood exactly how QWO works. This is believed to occur in three ways: 1) by releasing fibrous bands; 2) redistributing fat cells; and 3) stimulating the growth of new collagen.
What kind of results can I expect with QWO?
In most cases, a visible reduction in the appearance of moderate to severe cellulite can be achieved in about 10 weeks. Results with QWO should last for years with a healthy lifestyle. For now, you can expect results to last at least one year, though it's likely to last much longer.
How many treatments of QWO will I need?
Every case of cellulite is different, so we'll have to take a look at your specific condition to determine how many injections may be needed. In clinical studies, however, women typically received three treatments of QWO spaced about 21 days apart.
Are there any side effects with QWO injections?
The most common side effects of QWO include bruising at the injection site. Other side effects reported were mild pain, areas of hardness, itching, redness, discoloration, swelling, or a warm sensation in the treatment area.
Though rare, the most serious side effect is an allergic reaction. Women who are allergic to any collagenase or the ingredients in QWO, or who have an active infection in the treatment area, should not receive the injections.
How is QWO administered and how long does treatment take?
QWO is injected by our injection specialists directly into targeted dimples in your buttocks and thighs using a very fine needle. Injections typically take only about 10 minutes.
How can I get the sensational cellulite treatment of QWO in the DMV area?
If cellulite hinders you from sporting your favorite pair of shorts or donning that sexy bathing suit without a wrap, then give us a call at (240) 907-5009. We'll set up a consultation to discuss your specific concerns and determine if QWO is right for you.